The vision of HealthSense is to measure and improve the air quality inside companies. By using small sensors throughout the working environment, we can give the indoor air a score with advanced algorithms. This score is important to detect polluted air faster and to make sure that employees can concentrate better. In the past, many studies have linked poor air quality to increased absenteeism at work.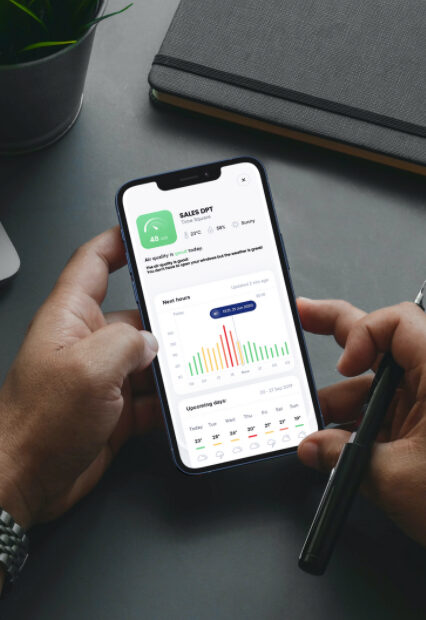 What makes our sensor unique?
We would like to give companies the opportunity to let employees and guests know the air quality themselves. A small cheap sensor in one place will not get you there. 
That is why our sensor is scalable and integratable. With a subscription structure, we offer live data and analyses. This way, the employee can know when to take action. 
Here is a list of the most important features:Light ring for air quality indication
Measures CO2, fine dust and tVOC
Can be integrated with smart systems
Autonomous and low consumption
Webapp for easy overview
Since we obviously cannot convince you with a bit of text, we would like to offer you a 14-day trial period!
Here you can use the full sensor without limitation. Please contact us via the form below: